Jennie Finch's Blog: Finding Friends in Fresno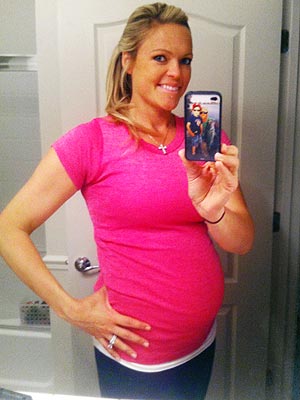 Belly at 30 weeks! – Courtesy Jennie Finch
Please give a warm welcome to our newest celebrity blogger, Jennie Finch! The recently retired softball player is expecting her second child in late June and will be sharing her pregnancy experience with us monthly.
The Olympian, 30 — who won gold in Athens and silver in Beijing — and her husband, Major League Baseball pitcher Casey Daigle, are already parents to son Ace Shane, 4½.
Currently 30 weeks along, Finch writes about the family's latest move — to Fresno, Calif. this time — connecting with new moms in the area, and pitching while pregnant!
We so greatly enjoyed our spring training time in Arizona! It flew by. We saw friends, had softball clinics, visited my old stomping grounds at the University of Arizona, went to games, played, and did a TON of swimming because that was Ace's favorite thing.
Baby Daigle is super active. We've had fun as a family watching my belly shift from side to side. I've been able to feel his arms, legs and head. It's just a sweet, sweet miracle. Casey's not quite sure how he feels about the moving. He'd rather just look from a distance. I wonder how many other women's husbands felt the same way? Kind of weirded out by their wife's belly moving around…